Yonkers Pizza Joint's New 'Super Slice' Goes Viral in Westchester
(Advertisement)
(This was originally posted on Jun. 5, 2016)
It will be talked about for generations to come. That fine day when Yonkers pizza joint, The Pizza Barn at 70 McLean Ave., bestowed upon us the almighty "Super Slice."
When we first laid our eyes on the "Super Slice," we could have sworn we heard angels sing. It was…
We are VERY passionate about our pizza, and so is The Pizza Barn. This passion and love for food and family are how the glorious carb and cheese creation (our favorite combo!) was conceived.
When owner Angelo De Luca came across an 18-inch pizza box, he decided he wanted to do something big, something different. That spark of inspiration ended up turning into a huge viral success.
"He played around with some samples and voila, the Super Slice was born," his sister Michelle De Luca explains. "I posted the picture to our Facebook page and it immediately went viral."
Within 24 hours, more than 200,000 people saw the photo, which had about 1,400 comments. Now everyone wants a "Super Slice," which is four times the size of a regular slice and costs $10.
People are even taking "Super Slice" selfies. No lie!
"People have been calling for location and hours and wanting to know if the Super Slice is available all day," said Michelle De Luca. "We're excited to see where this goes. Maybe a stop for one of the Food Network shows? We're happy that our little shop, with BIG ideas is finally getting the notoriety it deserves."
The "Super Slice" is almost a throwback to one of their father's creations, the "I Love You" pizza. The heart-shaped pizza was a family favorite invented for Valentine's Day in the 90s. It's still popular in February and can be decorated with the words "I Love You" in a number of toppings.
What says "I Love You" better than pizza? Flowers? Chocolate? NO! The answer is pizza. The answer is ALWAYS pizza. Finally… someone who gets it!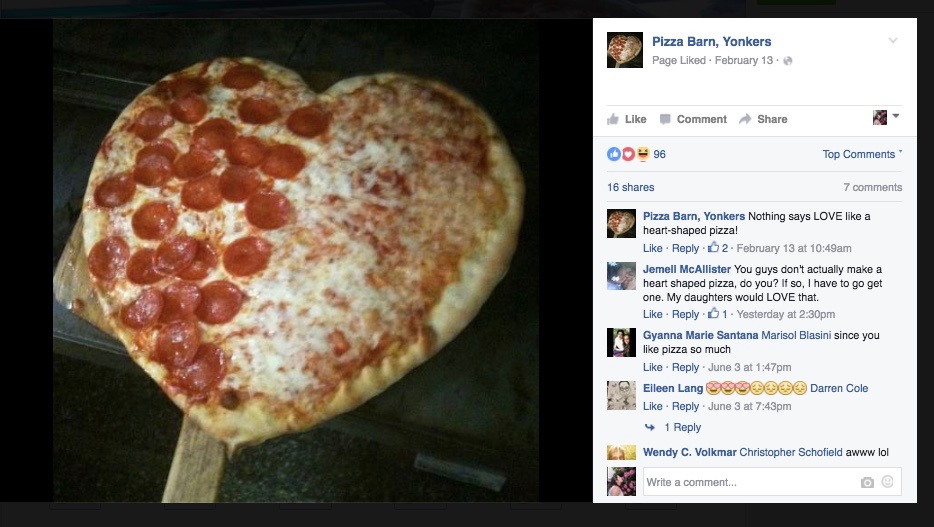 "Who knows, if the Internet had been around when my dad started his innovative ideas 60 years ago, what would have become of our food establishments then," Michelle De Luca wonders.
The Pizza Barn is a true family affair and the epitome of a mom-and-pop shop. And it all started with true love.
Here is the story of The Pizza Barn, according to Michelle De Luca…
My mom, Connie De Luca, first met my dad, Armando De Luca, by applying for a job at his original outpost in Getty Square called Reggie's Wedges on New Main Street around 1974.
Their love for food and each other grew, and by April of 1977, they opened The Pizza Barn on McLean Avenue, where it still stands today. The Pizza Barn was not my dad's first pizzeria. His innovative ideas in food started as the owner of the Donut Den, making the front end of his shop a pizzeria because pizza-by-the-slice was relatively new in the early 1960s and was just beginning to gain popularity in Yonkers.
Armando was also one of the first people to bring the "calzone" to Yonkers, and he introduced this cheese-filled pocket to his customers at his New Main Street location. He was also one of, if not THE first Yonkers pizzeria to offer "delivery" service, which was unheard of in the 70s.
Over the 40 years that the Pizza Barn has been open, it is seen many changes occur around it, but the pizzeria and the ingredients have been very consistent. We (my sister, brother, and myself) all had our share of working the pizzeria throughout its 40+ years of existence, and it had become a family for the many people who lived in the neighborhood and worked the counter over the years.
In January of 1998, my father passed away from a sudden heart attack, and my brother and mother were left with the task of continuing my dad's dream of serving the Yonkers community. While Connie [mom] had taken over as the proprietor of the Pizza Barn, Angelo, my brother, still continues to be the forward thinker, just like our dad.
Thank you, The Pizza Barn, for continuing to bring us new joyful ways to enjoy our favorite New York food!
Check out The Pizza Barn at 70 McLean Ave., Yonkers, NY (914) 3781400
Have you tried the Super Slice? Tell us about it in the comments!?