What You Need to Know About Breast Implants, Augmentation, Reductions, Reconstructions, Lifts
(This post is sponsored by?Advanced Plastic Surgery & Laser Center)
There are a variety of reasons we decide to have breast surgery. Whether it's a desire for a fuller or more symmetrical bosom, to reduce pain and stress our their back, or to help regain a feminine look after a mastectomy. Regardless of the reason, those considering breast augmentation, reductions, reconstructions, or a breast lift need to know the facts first.
We asked Dr. Scott Newman of Advanced Plastic Surgery & Laser Center what we should know when considering breast surgery. Newman is one of the most experienced breast surgeons in the country, having performed more than 4,000 cosmetic breast procedures.
Here's what he told us…
The Procedure: Breast Augmentation/Implants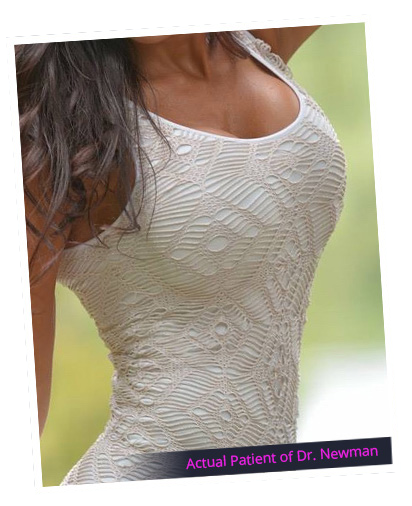 Breast augmentation is the most popular cosmetic procedure in the country and uses implants to increase breast size, improve breast shape, or lift sagging breasts. Your body type, overall goal, expectations, and skin elasticity will affect the type of breast augmentation procedure you can have.
This patient of Dr. Newman's had breasts that were different sizes and was looking to even them out.
Depending on your preference, breast implants can subtly or dramatically enhance your appearance. The 21-year-old woman pictured below wanted a smaller augmentation for a more feminine and natural shape with very little upper breast roundness.
Scheduling a personal consultation with a qualified surgeon will help you determine the advantages and disadvantages of the different implant types (saline or silicone) and the techniques used to insert them.
The more you know about the procedures that are available for your body type, the better you'll be able to gauge your expectations. Being well prepared and informed can ensure that you'll be satisfied with your results.
The Procedure: Breast Lift
As you age, have children, and breastfeed, your breasts begin to lose their battle with gravity. This is when some women elect to have a breast lift to restore perkiness and eliminate sagging. A breast lift, also known as a mastopexy, can add fullness to your chest and reposition the nipples or reduce the size of your areolae.
There are different surgical techniques (such as the Crescent, Vertical or Horizontal Lift) used for different effects, as well as different methods to reduce scarring. Dr. Newman uses them all. Breast lifts can include an implant or the repositioning of existing tissue to achieve a different look. The type of lift and technique you choose will depend on the severity of sagging and your desired results.
The 32-year-old mother of two above lost significant volume in her breasts, especially in the upper part. She was looking to increase her size, but not so much that her chest appeared too large for her frame. She went with a vertical breast lift and small augmentation of 200cc of a smooth round silicone gel implant placed under her muscle.
"I really didnt want an up-and-down scar on my breast, but after seeing pictures I was less concerned and my own scars now are barely visible," said Dr. Newman's patient. "I feel like this surgery changed my life."
The Procedure: Breast Reduction
Men with gynecomastia and women with oversized breasts may elect to have breast reductions. Breasts reductions can correct disproportionate breasts and eliminate discomfort and pain at the back and neck.
Running, working out, wearing a bra or swimsuit, or just being comfortable can be a whole different game for women with oversized breasts. Sometimes pain or discomfort from those activities can become more serious and cause irreparable back and shoulder problems.
The procedure for a breast reduction is similar to a lift and includes removing excess skin and fat tissue to reduce the overall size of the breast. Here's what one of Dr. Newman's patients said after her back pain disappeared just two days after surgery.
I was referred to Dr. Newman by my gynecologist who said that Dr. Newman had actually operated on her! She chose Dr. Newman for herself and that was the best recommendation I could ever find for my breast reduction surgery. I wanted to find a doctor close to my home in Westchester, and now that I have had my surgery its clear that I made the right choice. Although I was uncomfortable, I didnt have much pain after surgery. On the second day after my surgery, I felt OK to go to the mall where I met Dr. Newman with his daughter!
Here are her results:
The Procedure: Breast Reconstruction
Losing a breast or even both to a mastectomy can be devastating. Breast reconstruction offers women the option of having their breasts remade using existing tissue and breast implants. Reconstruction can be performed at the same time as or after a mastectomy. Sometimes the nipple and areola are preserved for reattachment during reconstruction.
If additional tissue is needed, it can be taken from another area of the body to fill the breast, such as the abdominal area. Post-surgery breasts won't look the same as your breasts did before surgery. Some women even find that their post-surgery breasts are higher and firmer than they were before due to the use of breast implants.
Knowing the facts on breast surgery and breast augmentation is the first step, but THE most important step is finding the right surgeon. Finding a qualified and reputable surgeon is the key to ensuring satisfaction with your chosen procedure.
In the New York City, Westchester, and Long Island areas, plastic surgeon Dr. Scott Newman of Advanced Plastic Surgery & Laser Center offers the highest quality care and surgical skill. And, for some procedures, has more experience than most surgeons in the entire country. Dr. Newman has been selected as a Castle-Connolly Best Doctor in New York for 15 consecutive years and was instrumental in developing 3D imaging technology.
he following is ?a sponsored post