The Women Who Made New York; Poochella 2016; Movers and Shakers a Hit
(Caption: Cover of Julie Scelfo's?The Women Who Made New York; Credit: Seal Press)
Here's what'a happening Today in the 914, according to Westchester Woman: The Women Who Made New York; Poochella; Movers and Shakers a Hit; MORE.
The election is over… here you go America:
Hopefully we can get back to getting along and not vilifying each other because we don't agree. We like where this lady's head is at:
1.) Julie Scelfo's new book?The Women Who Made New York, takes a look at the women who built New York. The contributions of theses women in politics, fashion, music, comedy, food, fun and recreation are often overlooked when compared to the contributions of New York men.
Try for a moment, to envision the city without all of the women who, over four centuries, wielded pencils and rulers, hammers and washboards, frying pans and guitars, writes Scelfo. Would New York look and sound and feel the same?
In her book Scelfo profiles women like artist Yoko Ono, writer Fran Lebowitz and?Emily Warren Roebling, who finished building the Brooklyn Bridge after?her husband got sick. You can get your copy below:
Scelfo recently celebrated the launch of her book at the Rainbow Room where The Cut asked women in attendance ?how New York shaped them and advice they'd give to?younger women.
Here's what some of the said:
New York women are very driven and not afraid. I think we are used to running things and taking charge and we are not afraid and worried about what people, including men, think about that. I feel like I was a New Yorker in a past life. Being in New York allowed me to be the person I always was, except I dont stick out here. I think there are lots of women who, like me, are assertive, who know what we want, who are willing to go after it. In other places that can be frowned upon, but here you are joined by a legion of other women who are just like that, and I think in that way, New York City is a very liberating place to be a woman. -?Nikole Hannah-Jones, investigative reporter covering civil rights for the New York Times
One of the great things about New York is it will find a use for your talent. I know a woman who waxes eyebrows for a living, who owns an apartment on Central Park South and a house in South Hampton. And that is what she does. She is an Eastern European immigrant, because New York said, Oh, you are good at this thing, we know how to put that to use. So I think: Figure out what is going to be your area of specialization and opportunity will find you. -?Mary Ann Tighe, CEO of the New York tri-state region of the commercial-real-estate company CBRE
Find people that really inspire you and try to get to know them. -?Nina Zagat, founder of the Zagat Survey
Read the full story below:
2.) Poochella will bark through Westchester on Sunday, Dec. 4. Bring your dogs and show your support for Westchester's rescues. You can adopt a pet or donate dog food and treats. Details are below: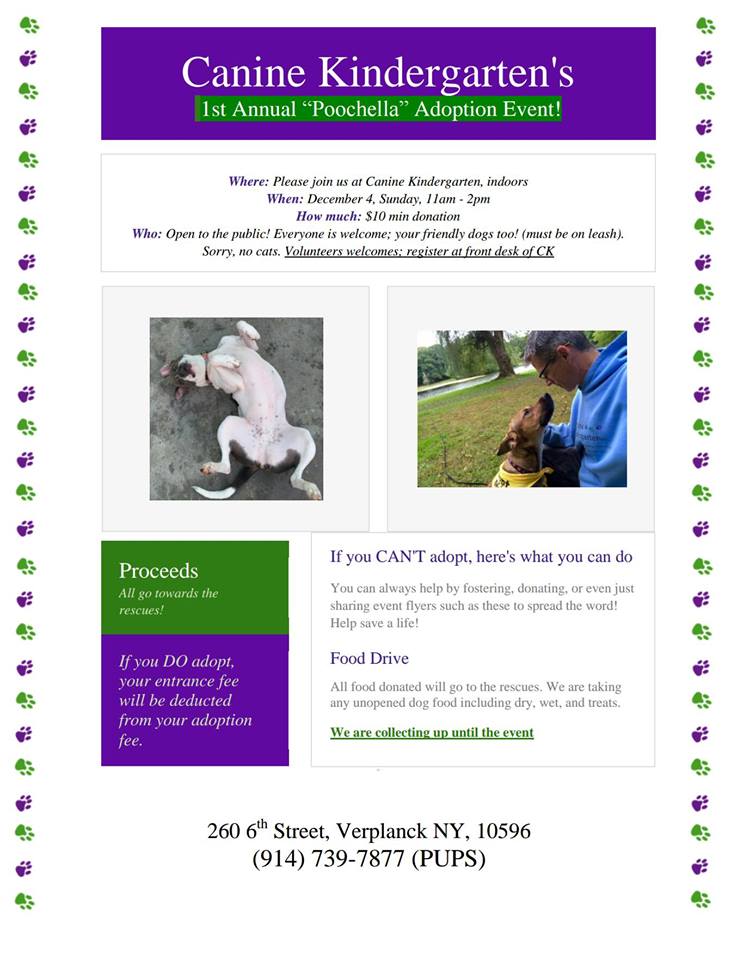 Here's some tips if you need help figuring out what your dog is going to wear to Poochella:
3.) We had such a beautiful time at the YWCA White Plains and Central Westchester's?Third Annual Movers and Shakers Fundraiser, and Westchester Woman was honored to serve as a media sponsor and committee member. This year's theme was to "Turn Up the Heat" and showcase Westchester's female chefs while honoring those who embody the YWCA's mission to empower women and eliminate racism.
The event on Oct. 13 drew in more than 270 attendees and was co-chaired by?Dr. Sabrina Magid Katz of Advanced Dentistry of Westchester and Adam S. Katz, Esq.?
As a woman who is a young professional, it is important to me that young girls are encouraged to pursue their dreams and goals, and given the support to do so. Eliminating racism and empowering women are bedrock principles in ensuring that everyone has an opportunity to thrive, said Dr. Magid Katz who?serves on the board of the YWCA and has attended the YWCA since she was a child.
The honorees, who help promote peace, justice and freedom, were: Bellantoni Family; Ben Himmelfarb; Barbara Lerman, Esq.; Bill Mooney, III; and Sekai Ndemanga. Here are some photos of the event: