SNL is Our Favorite Show Again; IntoxiKate is Back; YWCA White Plains Holiday Food Drive
Here's what's happening Today in the 914, according to Westchester Woman: SNL is Our Favorite Show Again; IntoxiKate is Back; YWCA White Plains Food Drive; MORE.
1.) We admit that we stopped watching New York's Saturday Night Live for a while, but we don't think we're going to miss an episode of SNL anytime soon. The cast is funny and diverse, the writing is smart and gets?us to laugh?when?talking about?issues like racism and sexism, even though that stuff sometimes makes us want to cry.
It does this all with a lot of heart and without being too divisive. Like this episode that shows us we?can all find things in common with each other:
Some unity was definitely needed after last week's election?results, and they got one of the best in the country to help bring us together… Dave Chappelle. AND a Tribe Called Quest was the musical act!?The episode started with a beautiful and hopeful rendition of Leonard Cohen's "Hallelujah" by SNL's Hillary Clinton a.k.a. Kate McKinnon before Chappelle's opening stand-up monologue.
Chappelle was raw, honest, hilarious and made fun of EVERYONE. The episode captured the white shock and outrage that occurred after America elected "an internet troll" as president,?and other issues like mass shootings that once gripped the country before the election noise started.
He also reprized our favorite Chappelle's Show characters. If you missed the full episode, you can watch it here:
2.) Our palates?are praising the return of Westchester's favorite foodie goddess Kate Schlientz of Fork This with IntoxiKate. Westchester and Fairfield's only food radio talk show is on 1490 WGCH on Tuesdays at 6 p.m. Tune in tonight for her first show back to get the latest on the local restaurant scene, recipes and entertainment tips from local food industry experts.
Tonight's show will talk about Thanksgiving with?Claire Bertin-Lang from CBL Liquid Consulting and Steve Distler of OBrien Estate Winery in Napa, CA, Chef Navjot Arora of the?new Irvington restaurant Sambal: Thai & Malaysian. Get the latest tips on dinner party ideas and gift ideas from IntoxiKate's "Edible Christmas" series which starts on Nov. 29.
You can get the podcast and info of the best food events and restaurants in Westchester and Fairfield below:
3.) It's time for the?YWCA White Plains & Central Westchester's annual Holiday Food Drive that ends on Nov. 18. Here are the details and how you can help: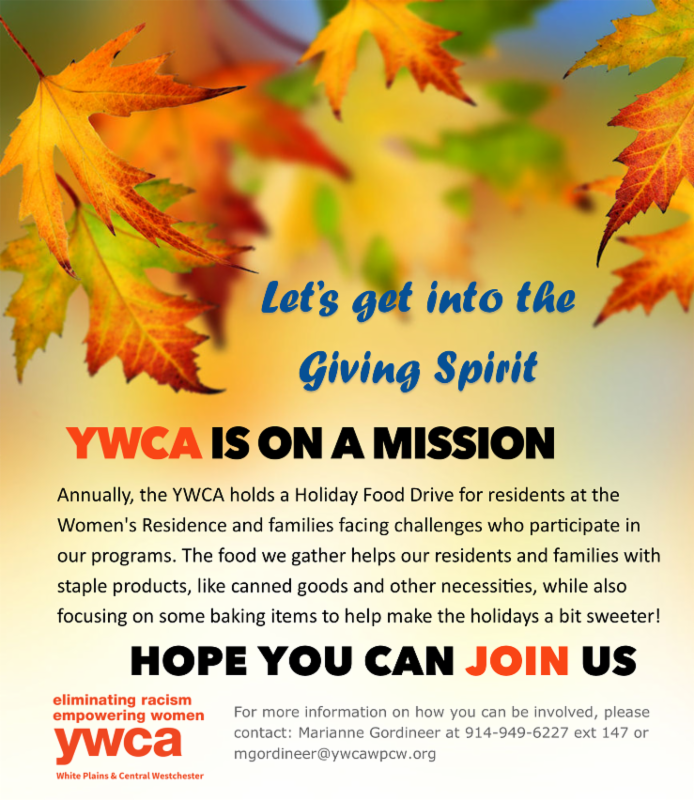 Thanksgiving Food Drive Wish List: