Did You Know That 'Making a Murderer' Has a Westchester Connection?
Two sisters from Hawthorne are responsible for the latest pop-culture?phenomenon that your family, friends,?celebrities and everyone else is talking about.
Westlake High School alumnae Laura and Danielle Ricciardi are a part of the team who created?Netflix's 10-part true crime series "Making a Murderer,"?the blockbuster documentary that follows the story of Steven Avery who was imprisoned for 18 years for a rape he didn't commit.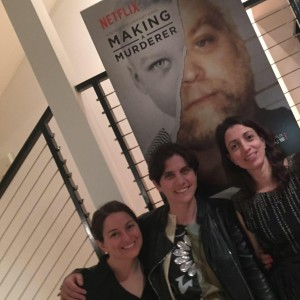 After Avery was exonerated and released from prison, he sued local authorities for $36 million.?Avery is now serving a life sentence for the murder of another woman, which "Making a Murderer" suggests he?was framed for in an?attempt of revenge and to?derail his lawsuit.
Since?"Making a Murderer" was released?on Dec. 18?it became an instant success invading your social media feeds on a daily basis and has been featured in Forbes, Buzzfeed, the New York Times, NPR and more.
The case has even caught the attention of ?the?White House after 350,000 people signed a petition on the White House's website?for?the release of Avery and his nephew Brendan Dassey, who was also convicted for having a part in the murder.
In case you've been living under a rock and haven't heard about it, here's the trailer:
Laura Ricciardi, who graduated in 1989 from WHS and previously worked as a lawyer, served as co-director on the film with Moira Demos. Laura Ricciardi and Demos first came across the Avery case in a New York Times article in 2005 after he was first released from prison.
The pair thought it would make for a good documentary and followed the case for a decade before it premiered on Netflix.
Danielle Ricciardi, who graduated from WHS in 1999 and is the co-founder of the wildly successful vegan pop-up diner and caterer?Chickpea & Olive, served as an associate producer along with Joel Slabaugh. She gave Westchester Woman a sneak preview of part of their?film years ago before it hit Netflix and spurred a national outcry for a new trial for Avery.
Yup… we're totally bragging.
"We never could have anticipated or even?dreamed of the type of response there's has been to this series," said Laura Ricciardi in an appearance on TODAY.?"We're really thrilled about it and appreciative of everyone tuning in and taking to social media to discuss it. We're really excited about the public discourse it's generated."
Danielle Ricciardi is also?in awe of the documentary's success and credits her success to her sister always pushing her to follow her dreams and never give up.