Artist Lana Yu Asks What Matters Most to Westchester?
What matters most to you? Is it family? Friends? Love? Compassion? Artist Lana Yu asked this question of thousands of people of all different backgrounds and ages between Peekskill and NYC. She wanted people to slow down and see the larger picture life has to offer, which can easily get a away from us if we don't stop to reflect on it.
Yu's goal was to show that though we're all different, most of are unified in our beliefs and core values. A mural is erected in Peekskill showing the responses, serving as a beacon of hope that even during what may be considered?challenging times peace, love and humanity can always shine through if you allow it to.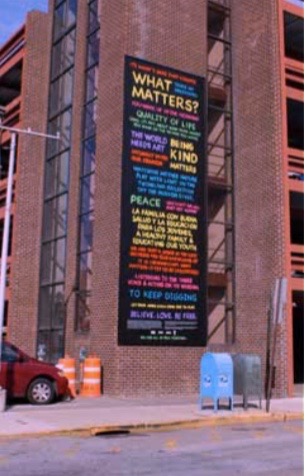 The mural can be viewed best at?1045 Park St. in front of the DMV building between Bank St. and South James St. in the downtown, Peekskill, NY. Here's what people said matters most to them:
The What Matters Most project is an ongoing endeavor and is seeking funding to create free local workshops for residents in partnership with community organizations that use word, music, movement and drama to make shared public performances available that break down barriers between neighbors.
You can learn more about these workshops and how you can donate to help make them a reality below:
We are creating a unique connecting experiences in the literary and performing arts as a way to bring people together. The arts has a way of healing each of us