Egg Donation: a Rewarding Journey
The following is a message from RMA of NY:
The following is a message from RMA of New York:
As a nurse practitioner working in the field of infertility for 16 years, I have been fortunate to witness thousands of patients journeys to parenthood.
Overcoming infertility is never easy, especially for patients who find out their chance of conceiving with their own eggs is not likely. Thankfully, there are young, healthy, giving women who decide to become egg donors.
IVF with egg donation is a very successful avenue by which these women can finally conceive.
Although it may take some time and introspection to become comfortable with the idea of using an egg from someone unfamiliar, the majority of patients eventually become excited to embark on this new-found journey to parenthood.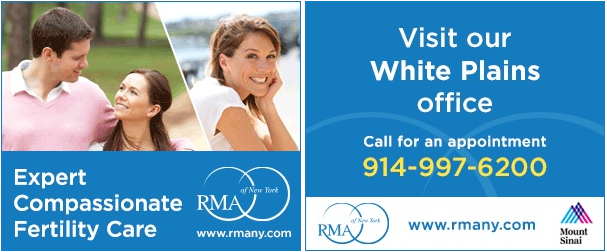 Egg donors are 21-32 years old and have to pass a thorough medical and psychological screening process. They take medications (for about two weeks) that stimulate the ovaries to produce multiple eggs.
The eggs are retrieved via the vaginal canal with an ultrasound guided needle (with sedation). This process does not take away from their future egg supply, and donors can donate their eggs up to six times.
In the New York area, donors are compensated $8000 per cycle for their time and effort.
I have learned a lot from my patients throughout the years. First, egg donors are special people who often demonstrate that the sense of reward they feel from helping others is more valuable to them than the compensation they receive.
I have also learned that sometimes life throws you an unexpected curveball. It is my recipient patients who have taught me over and over again, that it is what you do with that curveball that can change your life forever.? I am so grateful to all of them.
If you are considering becoming an egg donor, here are some important questions to ask your program:
What is the time commitment for screening and the cycle?
Will my identity remain anonymous? Will recipients see my photo?
What medications will I be on? What are the risks/side effects?
Will I receive sedation during the retrieval procedure?
How long has your center been caring for both egg donors and recipients?
Are you looking for fertility options? Here are some of the services RMA of New York offers at their Westchester and Manhattan locations:
If you are considering becoming an egg recipient, here are some important questions to ask your program:
Does your program recruit anonymous donors?
Are you affiliated with a frozen egg bank?
Do you work with donor egg agencies?
Do you do known donor cycles?
How long is the average wait for a match?
What are my chances for a live birth?
What does the cost of the donor cycle cover?
Are there any extra fees that I need to know about?
What information will I receive about the donor, and am I able to see an adult or childhood photo of her?
Do I need to have any kind of legal counseling?
We welcome you to visit our White Plains or Manhattan offices for a consultation. Reach us at (914) 997-6200 or www.rmany.com.
Sincerely,
Dara Berg, RN, MSN, WHNP-BC
RMA of NY – Westchester
311 North St. Suite 310, White Plains, NY 10605
(914) 997-6200