What Westchester is Doing to Improve Police-Community Relations
(Photo Courtesy City of Mount Vernon)
Since the deaths of Alton Sterling, Philando Castile and eight police officers in Dallas and Baton Rouge Americans have demanded an end to police brutality, excessive use of force and institutional racism, while calling for better relations between officers?and the community.
Here in Westchester, cities, and organizations are focusing on solutions to eradicate racial bias in their police departments and heal relationships between the police and the communities they serve.
"We cannot allow hate to fill the void of understanding," Mount Vernon Mayor Richard Thomas said. "We cannot allow fear to force us into making emotional decisions."
Thomas says he is committed to creating peace and understanding in his part of Westchester.
Mount Vernon has started with the implementation of President Barack Obama's 21st Century Policing model and the Stop & Shake program. Thomas recently outlined the City's initiative to improve community-police relations in Huffington Post:
During the past several years, many communities across the country have experienced numerous police involved shootings which resulted in the deaths of unarmed men and children of color. Most of these incidents occurred in cities and towns that are like Mount Vernon.
(Credit: Huffington Post)?
"We must hold onto hope and rediscover our spirit of courage to intelligently address issues of race, racism, and violence," said Thomas. "We can conquer false perceptions. We will by driving honest dialogues on uncomfortable realities on both sides of the badge.
Sgt. Jennifer Carpenter has led the City's efforts?to carry out the President's 21st Century Policing initiative over the last six months.
21st Century Policing
According to the Task Force on 21st Century Policing's website, their report offers recommendations on how local police departments can improve upon six pillars. The 21st Century Policing Final Report offers a guide with 59 recommendations on how local departments can create stable communities and deliver safe policing.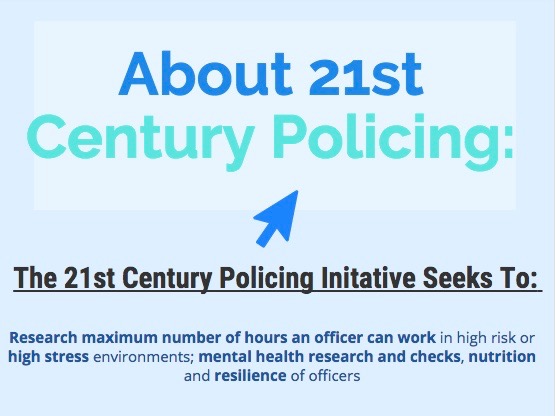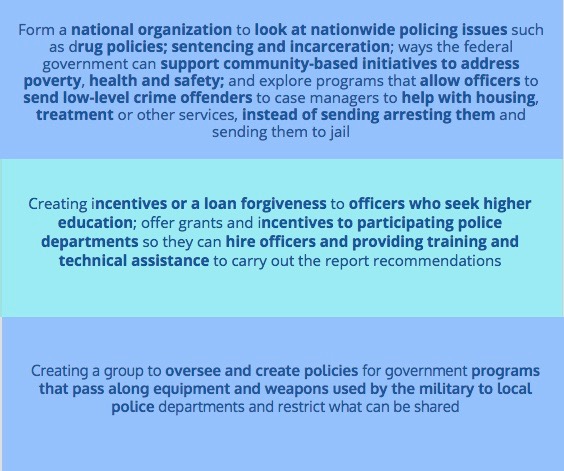 ?Credit: Westchester Woman – Info via Task For Force for 21st Century Policing Report
The report recommends that officers adopt a "guardian mindset" and treat people with dignity and respect; give individuals voice during encounters; be neutral and transparent in decision-making, and convey trustworthy motives when encountering people in their community.
This is because, according to the report, people are more likely to obey the law when they feel that those who are enforcing it have legitimate authority to tell them what to do. The public only finds legitimacy in authority if they feel that the authority is acting in procedural ways.
The report also emphasizes the need for local police departments to reinforce policies for prevention of sexual misconduct and harassment, as well as have training on social interaction and specialized training on interacting with the LGBTQ population, Muslim, Arab, and South Asian communities, and immigrant or non-English speaking groups.
Mount Vernon
Thomas says hundreds of hours have already been spent planning and implementing the initiative in Mount Vernon. As a part of these efforts, Thomas has pledged to "change the organizational mindset" and the way services are offered in Mount Vernon's police departments. Here's what Mount Vernon is doing:
Officers will be expected to treat citizens with dignity and respect and rely on training to de-escalate situations and avoid life-threatening situations
A Public Safety Commission made up of community leaders, businesses, religious leaders, and city officials will examine the culture of the City's police department and help execute the implementation of the initiative
A Civilian Complaint Review Board will be created to allow the public to take their complaints about the police department to the board for review
The creation of new possibilities for diversity in police leadership
Events will be held that bring both the police and community together in a fun friendly neighborhood settings to strengthen relationships
"Through embracing new ideas and investing in relationship development programs, we will combat racial profiling, offer better training, and deliver a more effective policing model for others to follow," Thomas said."This is the necessary work to build trust between law enforcement and the public to triumph over tragedy and move forward."
Mount Vernon has hosted a variety of events that are free and open to the public.
"It's not something that's new in policing," said Acting Police Commissioner Ronald Fatigate. "Intermingling and engaging with the community is something that's gotten away from police work, and we're working to get it back."
Carpenter, Deputy Police Commissioner Shawn Harris, Det. Dave Clarke and Officer Karen Buddenhagen recently attended President Barack Obama's briefing on improving policing in America to share the success Mount Vernon has had with implementing the program.
"We are equipping the Mount Vernon Police Department to be a leader, guardian, and friend to the community," said Carpenter. "The tragic deaths in Dallas, Baton Rouge, and Minneapolis did not have to happen. Every day I am reminded of the importance of being with the people we serve."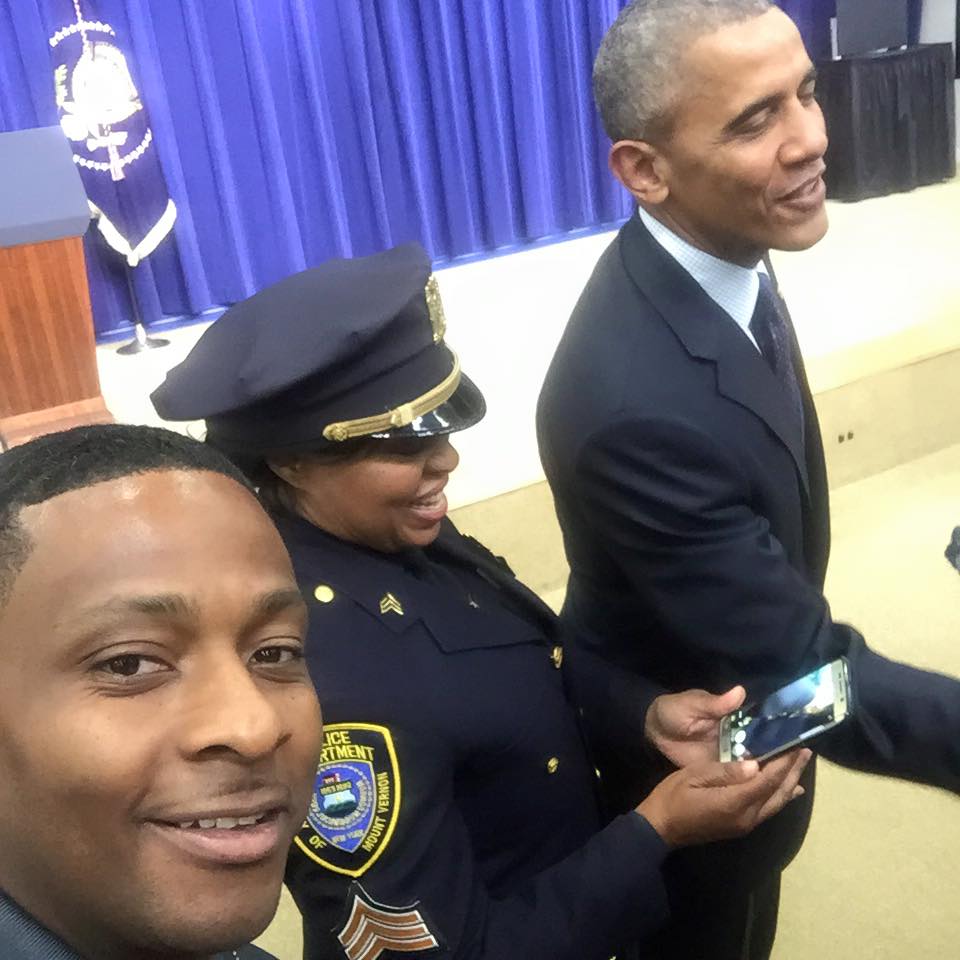 Clarke says he is serious about solutions when it comes to improving relations between police and the communities they serve, especially in black communities.
"But the difficult thing here is that law enforcement has to recognize that there is a PROBLEM and they have to ACCEPT that there is a disparity in the way minority communities are treated and they have to be WILLING to be ENGAGED in these communities," Clarke wrote. "On the flip side the minority communities have to also be ENGAGED to work with the law enforcement in their communities and be able to hash out issues and problems that arise in an amicable manner. Both entities have to be EDUCATED together in order for things to work and for things to get better."
He got real about the issue in a recent social media post that was picked up by Black Westchester, check it out below:
(Credit: Black Westchester
Mount Vernon is also doing their part to make sure the safety of its officers. The City recently held an active shooter training  and has their officers patrol in pairs. Fatigate says he is encouraging officers to get to know people in the community and learn their names, in the old-school fashion of policing. He has asked his officers to put any fear aside, make sure they are aware of their surroundings and to be visible and alert while patrolling and writing reports.
Fatigate told Westchester Woman that he is asking his officers to "speak to people the way you'd want people to speak to your mother," to keep communication calm and open.
He says the department will create an emphasis on cultural diversity and sensitivity training, so officers better know how to deal with people from different racial and religious backgrounds or those with mental illness.
"We have a lot of police officers that aren't from Mount Vernon," said Fatigate. "[Cultural diversity] It's a new thing for a lot of them and that's what we're trying to get around. For some of the cops, this is the first job they've had. It's scary to be given a gun and have all this power and have to control a situation which they've never had to encounter in real life."
He described the City's new batch of officers who will soon join the force as "mature" individuals who are mostly from Mount Vernon. The entire force will undergo training in cultural diversity in September and October.
Fatigate said he plans to hold a police open house at City Hall where members of the different divisions of the police department will be on hand to address questions from the public and see how they can be of service. He will also task the Commissioner's Advisory Committee with selecting business owners and clergy members in different parts of Mount Vernon to advise him on things what's happening in their communities, and what needs to be done in their communities to keep them safe and improve the quality of life.
Greenburgh
Town Supervisor Paul Feiner said Greenburgh's efforts to pay close attention to police-community relations over the last 25 years has paid off. He outlined the Town's efforts on Lohud:
New Rochelle
My Brother's Keeper of New Rochelle runs a youth police initiative. They host a week-long session for young people, particularly young men of color up to age 18, who have honest and open dialogues with law enforcement officials to help create trusting relationships.
My Brother's Keeper partners with the Boys and Girls Club of New Rochelle, police department, school district and municipal housing programs on the initiative.
"Were looking to leverage community parents and change the paradigm here in our community," Councilman Jared Rice told Westchester Woman. "I think nationally, and in our area as well, we have a crisis where young men of color, in particular, are involved in the criminal justice system at disproportionate rates. One step, not the only step, in trying to reduce that is to see if we can bring about better relationships between young people and the police department."
The Stop & Shake Breaking Stereotypes By Building Community?
The Stop & Shake is working to change hearts and minds in Mount Vernon and Yonkers.
The Stop & Shake gets police, businesses and community members to push beyond stereotypes and get to know one another. They do this by hosting community events and pop-up stations where police stop and shake hands with people in the neighborhood.
The Stop & Shake also hosts workshops on interpersonal communication.
Yonkers resident Hector Santiago a local business owner, community activist and reformed gang member started the Stop & Shake to "end misunderstandings between citizens, the police and each other."
Yonkers was the first city to take on the Stop & Shake in its police departments, and Santiago hopes to take the program nationally. He said he is pleased to see the efforts police departments are taking throughout Westchester to improve community-police relations.
"I feel like there can be more done because a lot of the people here think we don't have that problem, " said Santiago. "I think programs like Stop &?Shake and My Brother's Keeper need to get attention and used within the police departments to keep that balance for the longterm."
According to their website:
"The Stop & Shake initiative takes us away from the 'us and them' mentality and brings it more to 'me and you. The goal of Stop & Shake is to change the mindset of and unify key members in the community , citizens and those we trust to serve us."
Santiago says it's not only up to police departments, but individuals to eliminate stereotypes by encountering those they meet without preconceived notions.
Does Black Lives Matter Think Westchester's Efforts Will Work?
For activists like Vanessa Green, it can be hard to take the establishment's word for it that they are committed to change. She says that racism and mistreatment of black people go far beyond police departments, and extends to many institutions like housing, health care, and education.
"Fair and just treatment is really what were looking for across the board," said Green, a Black Lives Matter activist who recently organized rallies in Nyack. "That's what were really fighting for. But how do we fix that indoctrination. How do we fix something that's been broken for 300 years? How do we get people to listen?"
Green says it's difficult to move forward and address racism in America when conversations about racism or black unity make America so defensive and uncomfortable. She encourages her community to show up at protests, vote and contact their politicians to make their voices heard.
But she also says that money can talk loudest.
Green says black communities need to reinvest their money back into their communities and leverage their buying power to achieve fair treatment. She also thinks that police departments with a history of violent and racist actions should be defunded.
"Defund bad police and bad police departments," Green says. "I think that would help fix some of the problems,??if you start to defund bad police and bad police departments. Then the departments will figure out what they need to do to not get defunded."
She says that programs like Stop & Shake seem promising, but interpersonal communication training has to not only occur for the police officers working in the community but those who run the police departments that aren't on the streets every day.
"Is the top down going to buy into that?" asked Green.
She said its the higher ups that have to really welcome change into their hearts and see the black community in a different way for programs like that to really make a difference.
Otherwise, she says, efforts are counterproductive.