What Happened to Joyce Leslie Stores? An Ode to the OG of Fast Fashion
It was there for us at every occasion throughout our adolescent lives until one day we found ourselves asking: What happened to Joyce Leslie stores? Joyce Leslie was the OG of fast fashion and every adolescent and 20-something woman's favorite store.
It was the end of an era in Westchester and in NY, NJ, CT, and PA when Joyce Leslie announced that their stores were closing for good in 2016. So, what happened to Joyce Leslie stores? The short version is that they closed and many of them were converted to Rainbow stores. Here's the longer version and our ode to our favorite fast fashion store of yonder.
*The text below was published on March 12, 2016
What Happened to Joyce Leslie Stores
The first Joyce Leslie opened in Brooklyn in 1945 to sell women's dresses. The store was named after the owner's daughter. Here in Westchester, we enjoy locations at 250 Tarrytown Road in White Plains (which later became a Tesla dealership) and 561 Boston Post Road in Port Chester.
New Jersey 101.5 reported in February 2016 that the retailer will shutter all 42 shops that sell high-fashion knockoffs in Connecticut, New Jersey, New York, and Pennsylvania. Some of their locations will stay open until their leases are up.
Though the bright yellow neon sign remains above their storefront at the White Plains (Greenburgh) location, they are no longer selling their colorful spandex and synthetic fiber fashions.
Need a hug? Us too. We feel your pain!
But let us not dwell in grief… no. Let us celebrate the glory that was Joyce Leslie.
The OG of Fast Fashion
Before there was Rainbow or Forever 21 in Westchester, there was Joyce Leslie. In fact, many of the former Joyce Leslie locations are now Rainbow locations. It was where your mom took you for school shopping as a tween; where you would go to grab that last-minute outfit to wear to the club when you were in college; and where you now buy stuff for your teen, while grabbing a little something for yourself.
Joyce Leslie, also simply known as "Joyce" or "JL," was where you discovered your own fashion sense. Where you started picking out your own clothes and decided what you wanted to wear and look like. It was the first place you'd find the latest fashion trends for any season.
Remember these? Behold the platform sneaker in all its 90s glory.
It Was a Very Sexy Affair
Can you believe these bad Larrys still sell on Amazon for between $20 and $70? Joyce Leslie is also the spot where you'd find that outfit to give you a confidence boost or make you feel sexy and risque. (meow!) Showstopper!!!! Damn, Joyce Leslie! Day-am!
Words on Your Butt
Do you have $100? At Joyce Leslie, you're a queen. JL is always good for that $5 shirt or tank top you end up wearing to death. Or sweatpants that say "Angel" across the butt. This is how many bags you come out with when you shop at Joyce Leslie. Every… single… time. Never fails!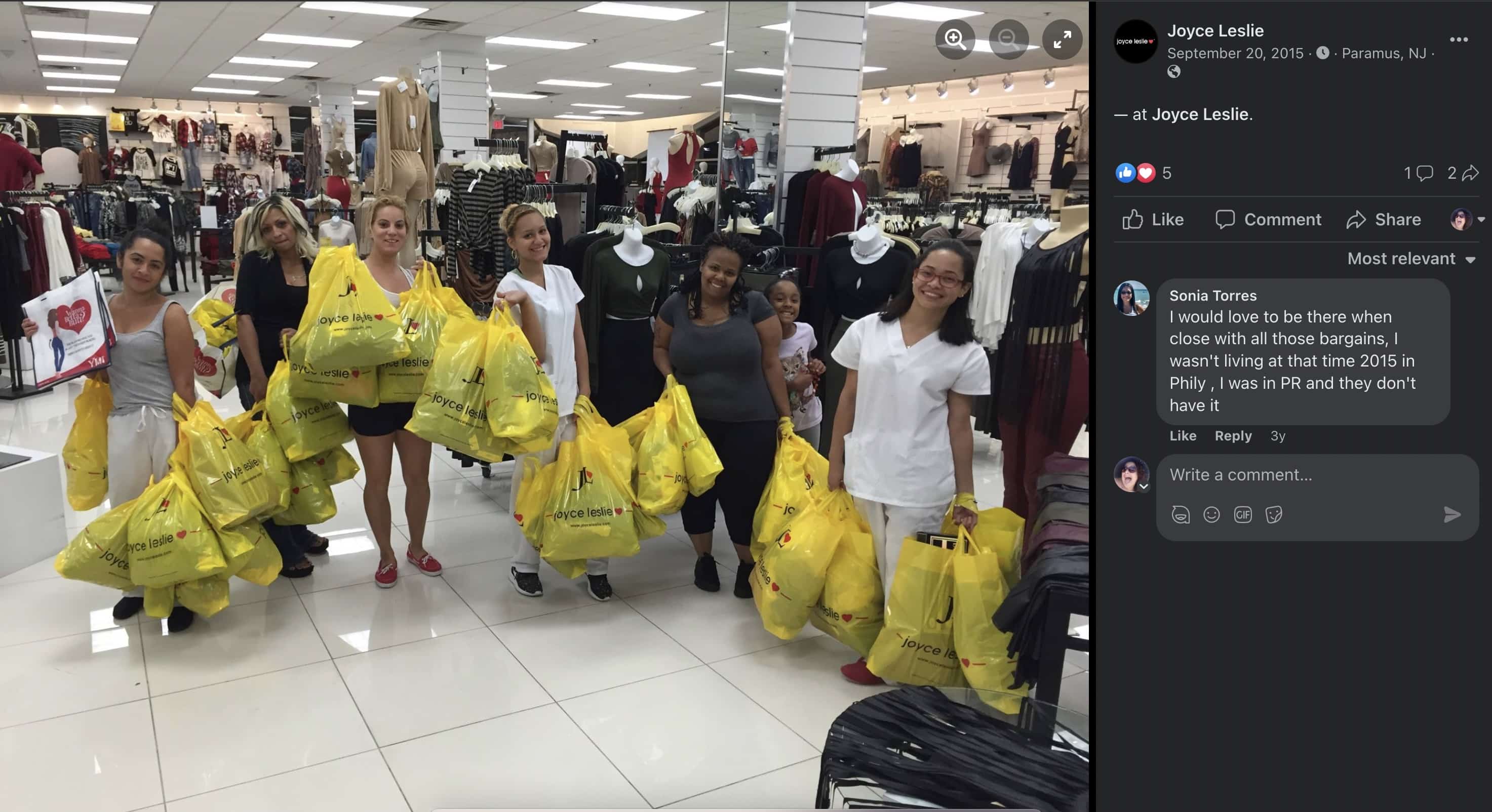 The Exposed Dressing Rooms
Joyce Leslie also showed us that the naked body is not shameful and that women come in all shapes and sizes. In fact, you had no choice but to come face-to-face with this fact at Joyce Leslie because their dressing room had no doors and forced you to undress in front of complete strangers.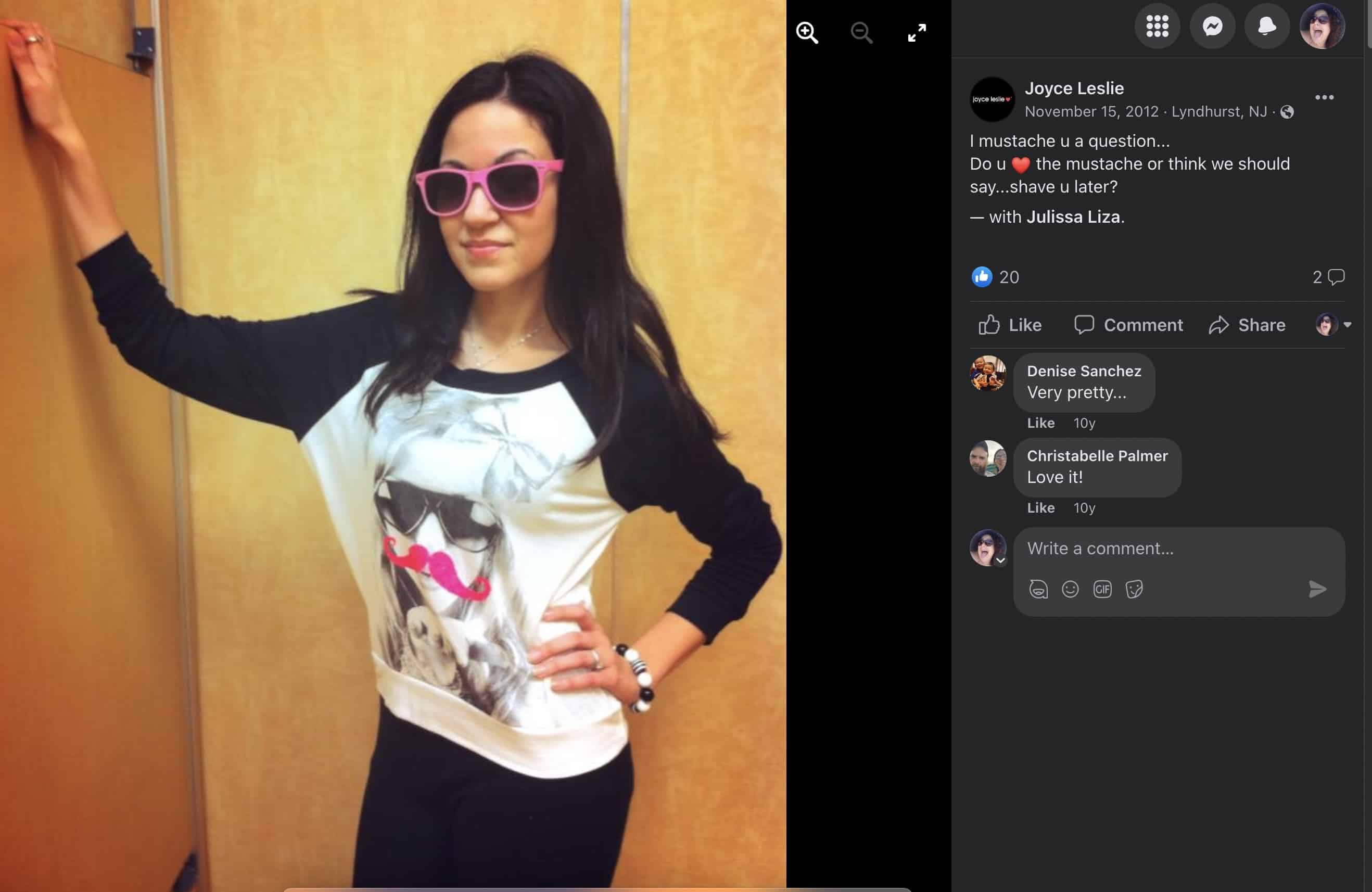 What was up with that? You know you've seen some SH*T in that dressing room. Why they couldn't at least sew a couple of old dresses that they didn't sell together and use them as curtains? Even so, you braved the experience to make sure you looked really cute on your birthday or a hot date, or appropriate for a job interview you really wanted to land.
The Convenience
The VERY best thing about Joyce Leslie was that it was quick. You didn't have to schlep through the mall. At Joyce Leslie's stand-alone location, you're in, you're out, and boom you're done.
Rest in peace, Joyce Leslie. Thank you for being convenient and affordable, while making us feel beautiful, comfortable, and happy to be women.
Here are some of the best Joyce Leslie memories from Westchester women:
Aly: printed polyester button up short sleeve shirts with a collar. Synthetic knit neon sweaters. Platform chunky shoes.
Nina: Always knowing you could go there for any last-minute outfit needs, usually they had what you were looking for in all seasons. I used to love buying the platform sneakers by Soda and Volatile and 4 for $10 undies!!!
Angie:  The last-minute club outfit …. I actually have a pair of shoes, moccasins I purchased years ago
Lianne: I have a dress I bought from there recently, lol loves that place
What are your favorite Joyce Leslie memories? What's the best thing you've ever bought there? Tell us in the comments.