Westchester Haunted Houses, Psychic Fairs, S?ances, Hayrides and Halloween Attractions
There's some pretty spooky stuff happening in Westchester during Halloween. Here's a list of local haunted events:
Saturday, Oct. 3 at 10 a.m.
Make new friends and kick off the season while making and wearing your own pointed witches hat. Coffee, tea and cookies will be served. Cost is $15 for adults and $7 for children 4 and up, which includes the cost of craft supplies, beverages and desert.
2.)?The Great Jack O'Lantern Blaze – Van Cortlandt Manor, 525 South Riverside Ave., Croton-on-Hudson
Weekends from Oct. 2 Nov.15, click here for show times
An 18th-century history site sets the spooky scene for this walk-through Halloween attraction featuring more than 6,000 hand-carved jack lanterns.?Adults are $20, Children 3-17 are $16; Saturdays adults are $25 and children 3-17 are $20. Kids under 3 are free.
Saturday, Oct. 24 and Sunday, Oct. 25 from 10 a.m. to 5 p.m.
A part of Krystal Madison The Witch of Sleepy Hollows A Festival of Witches, this event features several psychics (learn more about them here) who will offer readings; a variety of vendors; as well as tarot reading, candle magic and ghost hunting workshops.
Friday, October 30 from 8 p.m. to 12 a.m.
The theme this years witchs ball (which was started in 2014 to honor Sleepy Hollows Hulda the Witch) is Day of the Dead and the best costume wins $100.
The 2015 Sleepy Hollow Witchs Halloween Ball includes: pop, techno and party music played by a DJ; hors doeuvers and full dinner buffet; magical gift bags for the first 20 guests; a cash bar; door prizes and raffles; a ritual belly dance performance; free psychic reading parlor and closing ritual magic circle ceremony from members of Hekates Sacred Temple and the Sleepy Hollow Witches.
UPDATE: Tickets for this event are sold out
Weekends from Oct. 3 to Oct. 31, click here for show times
Enter a terrifying maze of horrors including the Crypt Walk, The Haunted Wine Cellar, a Creepy Morgue, Tunnels of Doom and more while dodging monsters that want to scare the life out of you. This event not suitable for children under 10. Tickets are $16.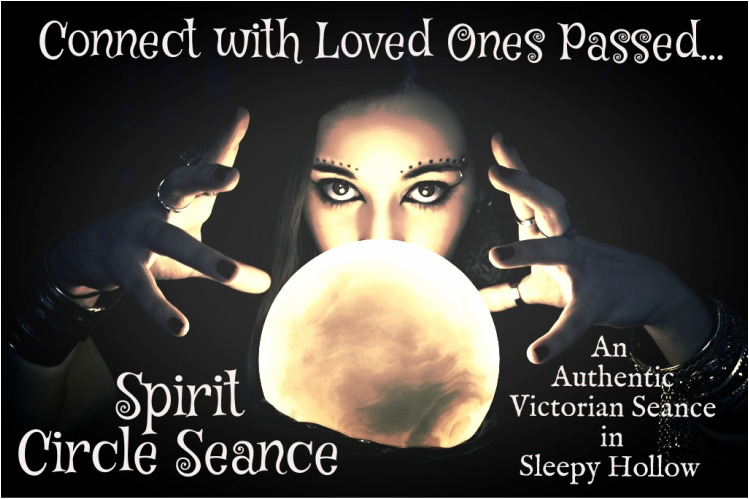 Saturday, Oct. 24 and Sunday, Oct. 25 from 6 p.m. to 7 p.m.
Connect with loved ones who have crossed over at this authentic Victorian s?ance lead by Krystal Madison the Witch of Sleepy Hollow and Psychic Medium Julia Drahos, a Sleepy Hollow native, who has appeared on SyFy Channels Haunted Collector and the Biography Channels My Ghost Story. This event is open to people 18 and older. Tickets are $31.45 for this event, which is a part of the 2015 Festival of Witches in Sleepy Hollow.
7.)?Horsemans Hollow Philipsburg Manor, 381 N. Broadway, Sleepy Hollow
Weekends from Oct. 2 through Nov. 1, click here for show times
The Legend of Sleepy Hollow has never been this terrifying. Horsemans Hollow takes you through the dark landscape of Philipsburg Manor where youll survive encounters with horrific undead creatures as you travel through Ichabods Schoolhouse and into the lair of the Headless Horseman.
Tickets are $20 and $25 on Saturdays. Members get $5 off. You can cut the line with a $15 upgrade. This event is too scary for children under 10 and may be dangerous for people who are claustrophobic, have respiratory/heart conditions, are prone to seizures or have other health conditions.
Weekends from Oct 2 to Nov. 1, click here for show times.
Master Storyteller Jonathan Kruk brings Washington Irvings The Legend of Sleepy Hollow to life during an engaging 45-minute live performance. This event is suited for children 10 and up. Tickets are $25 for adults and $20 for kids under 18.
Friday, Oct. 30 from 7 p.m. to 11 p.m.
Enjoy an adult costume party with food and refreshments (beer, wine and soda), prize giveaways, costume contest and live music by Gerard Carelli. Proceeds will benefit the building of Lasdon Park Glass House Conservatory. Tickets are $60.
Saturday, Oct. 23 and Sunday, Oct. 24 at 5 p.m.; hayrides start around 7 p.m.
Hop on the Villages annual haunted hayride that takes you through bustling downtown Sleepy Hollow and into the darkness of the Old Dutch Church grounds tracing Ichabod Cranes steps while fleeing the Headless Horseman. You can also stop by the annual block party on Beekman Avenue, where there will be food, music, vendors and fall activities.
You can purchase tickets online or at Village Hall. They are $20 online and $30 on the night of the event. Wait times can be up to two to three hours long.
11.)?The Haunt at Rocky Ledge Rocky Ledge Swimming Association, 1402 Old Orchard St, North White Plains
Weekend evenings starting Oct. 9 through Oct. 31. Click here for show times.
Take a walk through the haunted woods at Rocky Ledge featuring two haunted houses and a nightmarish cornfield filled with ghouls, fiends and homicidal maniacs. Tickets are $21.69 with the service fee.
Weekend tours from Oct. 16 through Oct. 31, click here for show times
Take a spooky half hour tour of Lyndhurst mansion to meet the long-dead family members of gothic Disenchanted Castle in this event suitable for all ages featuring the Hogwarts Wizards, Maleficent, Dracula, the Wicked Witch and more. Tickets are $25 for adults and $20 for kids under 12. Costumes are encouraged!
(Click here to read more in Westchester Woman's Haunted Westchester series)