LOFT Pride 2016 Celebrates Westchester's LGBTQ Community
(Credit: LOFT LGBT Community Services Center)?
EVERYONE is coming out to celebrate LOFT?Pride 2016 at the LOFT LGBT Community Services Center in White Plains. Artists, vendors, local talent acts, even our pets will all come together to celebrate strides made in tolerance and equity.
The LGBTQ+?community and its allies celebrate their pride during June to commemorate the 1969 Stonewall Riots, when the LGBTQ community unified to oppose oppression. So that's why June is celebrated as "Pride" month.
The LOFTs motto is Educate, Advocate and Celebrate," and all year long they provide services to the local LGBTQA community, advocate for LGBTQ rights and educate the community in cultural competency. But?now its time to celebrate, and this years Pride event is going to be bigger and gayer than ever!
LOFT Pride 2016 is Saturday, June 4 from noon to 5 p.m. at the community center located at 252 Bryant Ave., in White Plains. The event is free to the public, thanks LOFT Pride's sponsors like TD Bank.
This year we really want to empower our community, Westchester and the LGBT community, so were trying to engage local vendors and local talent, said LOFT Executive Director Judy Troilo.
By hiring LGBTQA entertainment and vendors, the LOFT is putting those funds back into the local LGBTQA community. You can sign up for a vendor space here.
Performers include Magician David Rosenstein, Broadway Sings for Pride, and the New York City Gay Men's Chorus (NYCGMC) Tonewall. Check them out:
You'll even get to have your say in the party's playlist!
There will also be a pet parade and costume contest with prizes, so bring your fuzzy friends in their best dressed! Click below to sign up!
The local LGBT community and their allies will also get to take center stage in the annual LOFT's Got Talent Show where you could win $350. Get all the details and rules on the contest here.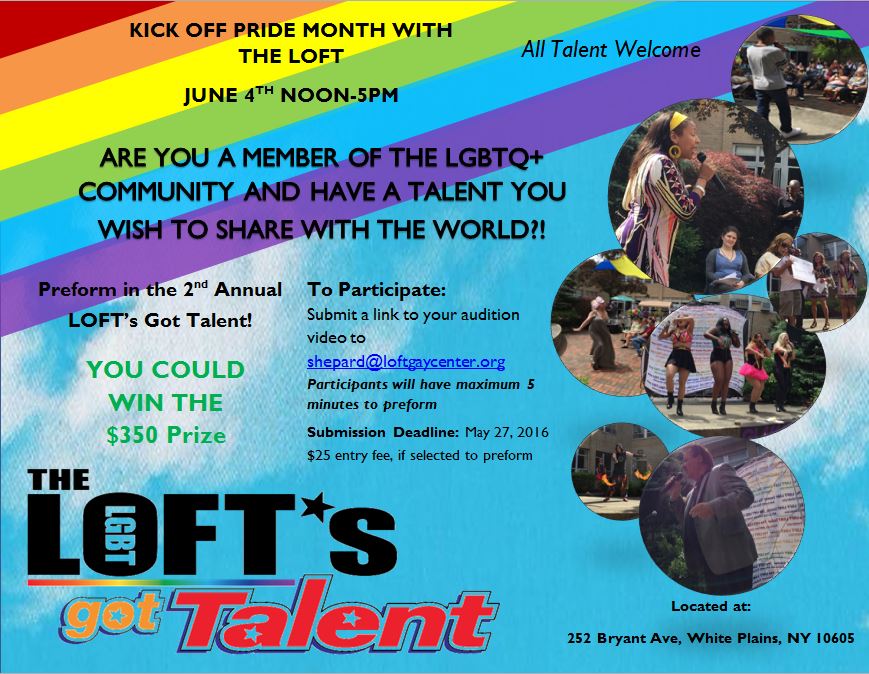 This year's LOFT Pride is not to be missed! Here's how you can contribute: click here to be a sponsor, make a tax deductible donation here, advertise here or sign up to volunteer here.
See you at Pride!