Ladies Night at Yonkers Comedy Festival; NY Girl Scouts Raise Money for Suffragist Statues
Here's what's happening Today in the 914, according to Westchester Woman:?Ladies Night at Yonkers Comedy Festival; NY Girl Scouts Raise Money for Suffragist Statues; Fall Festivals This Weekend; MORE.
1.) Tomorrow is Ladies Night at the Yonkers Comedy Festival at 7 p.m. at La Grotta, 811 McLean Ave. in Yonkers.?Here's the line-up: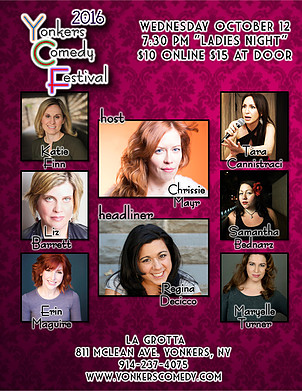 Click below to get?your tickets:
2.) White Plains resident Douglas Geller, 23, says that anyone can pursue their dreams if they are dedicated and never give up. But sometimes?those dreams are so much better when you have?someone you love by your side.
His new book?The Dreamer, available on Amazon,?follows the life of MMA fighter?Matt Schwartz who on a journey to fulfill his dreams. However, he finds that the most important part of his fight is the people outside of the cage.
"Michelle represents the best in him, how it takes more than action to make a dream a reality. It takes someone willing to stand by your side. Michelle is someone who challenges him, who does her best to look past flaws and help make the change but at the same time she stands her ground in what she believes in. As the book progresses so does Matt and Michelles relationship, it shows the good, the bad and the challenges of a relationship," said Gellar, who works in public relations and has written for?The Ithacan, The Examiner and Patch.

"Despite the challenges, I hope you see the joy in pursuing a dream with someone you care about by your side. How letting someone be a part of something you love makes it that much better. As someone who has been in a relationship while pursuing my dream, Ive seen this first hand and will always be appreciative of that!"
Doug's book is free on Kindle and $9.15 for the paperback:
3.) New York Girl Scouts say they need visible role models and are working on an advocacy and fundraising campaign called, "Central Park, Where Are The Women?" The funds they help raise will be used to erect statues of suffragists Elizabeth Cady Stanton and Susan B. Anthony in Central Park.
"There are no statues of women, and there's tons of men," says Pippa Lee, 10, a scout with Manhattan's Girl Scout Troop 3484. "We really need a woman's statue for girls to look up to, not just Mother Goose or Alice in Wonderland. They don't count."
Pamela Elam, who is spearheading the effort along with Stanton's great-granddaughter, Coline Jenkins says they are trying to "crack the bronze ceiling." They hope to raise enough funds so that the statues go up by 2020, which will mark 100 years since women won?the right to vote.
Read more about their efforts on NBC New York:
3.) Local activists have sacrificed their?freedom once again to protect the wellbeing of their Mother Earth in New York by protesting the Spectra's gas pipeline. Demonstrators have crawled inside parts of the pipeline on the construction site in Verplank, but negotiated with the police to only face reduced criminal trespass charges as long as they leave the pipes by noon.
Those who have been inside the pipeline since Monday morning say they are doing this for the welfare of the environment and health and safety of their families.
Read more on News 12 Westchester:
4.) Today's headlines: