Ghost Hunter's New Book Reveals Haunted Legends of Yonkers
Yonkers, according to Jason Media, is a very haunted place.
In his latest book Ghosts and Legends of Yonkers, Medina, the leader of the Yonkers Ghost Investigators, uses research and ghost hunting to tell the tales of the citys supernatural residents.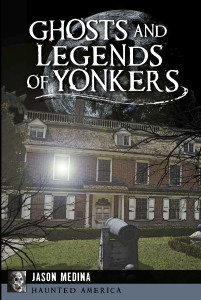 Medina, a member of the Yonkers Historical Society, has been writing stories since he was 5-years-old and has published two other books that have fictional story lines based on real bits of history and paranormal investigations.
Ghosts and Legends of Yonkers is his first non-fiction book.
Medina, who also goes by the name Raven, will be signing copies of his book at Barnes & Noble on Central Avenue in Yonkers on Thursday, Oct. 29 at 7 p.m.?In his book, Media reveals the history and lore behind 20 public and private locations in Yonkers.
Including:
Untermeyer Park a former hang out for serial killer David Berkowitz (a.k.a. the Son of Sam and .44 caliber killer) and his Santanic cult
The apparitions seen at Public School Thirteen, believed to be the ghosts of students and teachers who died when the building burned down
Or the spirits that haunt the abandoned laboratory at the Boyce Thompson Institute that failed at its goal of solving world hunger
Medina and his team of paranormal investigators have gone on more than 300 hunts in various locations, far beyond Yonkers. Heres Medina in ghost hunting action in Yonkers:
Ghosts and Legends of Yonkers?reflects Medina's experience with?paranormal investigations in Yonkers, as well as his research as a member of the city's historical society.
For more information on Medinas books visit: jasonmedinatribalpublications.com
Click here to read?more about Yonkers Ghost Investigators and listen one of their ghost recordings at Untermeyer Park.