How to Pack Your Makeup Bag According to Your Beauty Horoscope
By Shawna Elizabeth
Whats your beauty horoscope??Check your level, by looking through your make-up bag!
The Fresh Face
The contents of the fresh face kit are the essential items necessary in any beauty kit, before makeup even gets involved.?If you're not a makeup wearer, you can still have a fresh looking appearance with this go-to bag.
Fresh Kit
Comb (Hair)
Floss
Deodorant
Purse size Perfume Spray
Tweezers
Moisturizer
Basic Makeup
This?young lady is low maintenance, and has just the very basics to make her self look well groomed.? She is very natural and doesnt want to appear that she is wearing anything.? She doesn't?invest money or too much time in cosmetics. She will make sure her eye brows are groomed, but thats about it.
If this is you, here's what your makeup bag should look like:?
The Basic Makeup Bag
Mirror
Lip gloss (clear or a hint of color)
Lip balm (or Vaseline)
Hand lotion
Comb (Hair)
Basic Plus
The basic plus young lady is slightly curious about cosmetics. She is not ready to invest a great deal of money in cosmetics, but will take hand-me-downs. She will experiment with color, but it has to be close to natural. Thats her comfort zone.? She will carry all her cosmetic hand me downs and inexpensive cosmetics in one bag. Her cosmetic bag is probably a free gift from one the cosmetics counter, or something very inexpensive.
Basic Plus Makeup Bag
Mirror
2-3 Eye Shadow (hand me down or a free gift)
2 Lipsticks (came with a free gift)
Black Eyeliner
Lip gloss (clear or a hint of color)
Lip balm (or Vaseline)
Hand lotion
Comb (Hair)
[pro_ad_display_adzone id="3267″]
? ? ? (Advertisements)
Just in Case
The just in case young lady has quite a few makeup options and looks.? She will invest in cosmetics, but has to love them in the store. She doesnt buy cosmetics that wont speak to her while she is in the store. She depends on a cosmetic sales person to show her how to apply her makeup.
She only buys a few pieces of makeup at a time, and mostly because its an occasion.? She will experiment with different ranges of color from naturals to rich pigments. She is starting a makeup stash that is growing and too big to fit all her pieces in one bag.? So she has a stash of makeup at home and only carries a select group of pieces in her make-up bag, just in case.
?Just In Case Makeup Bag
Mirror
Eye Shadow (natural color, probably with sparkles)
Eye Liner (black or a dark brown)
2-Lipglosses (one is a clear, and the other is a natural color)
Brow Gel
Face powder
Lip balm
Hand Lotion
Comb (Hair)
Deodorant
Ready for Anything
The ready for anything young lady could start her own makeup counter.? She is knowledgeable about cosmetics, and probably knows the active ingredients in her make-up.? She knows how to customize looks for different occasions and she knows cosmetic trends.
She probably has a subscription to Harpers Bazaar, Vogue, Glamour or Allure. She may even be a borderline cosmetic junky.? She buys cosmetics that she probably only will wear once or never. She doesnt need an occasion to purchase makeup. Shes ready for anything because after she has decided her wardrobe, she then decides her make-up, to guarantee a polished look.
She doesnt mind spending an abundant amount of money on cosmetics. Seeing all her makeup gives her a high. She customizes her makeup bag with cosmetics that will make her ready for anything in minutes.?
Ready For Anything Make-up Bag
Mirror/Compact
Concealer
Blot Powder/ Blot film
Eye Shadow Primer
Eye Shadow Quad (4colors, 2neutrals, 2 trend colors)
Small Brush Set
Brow Pencil w/comb
2 Eyeliners (Black & Brown)
Bronzer or Blush
2 Lip Liners
3 Lip glosses
Lipstick (opaque, pop of color)
Mascara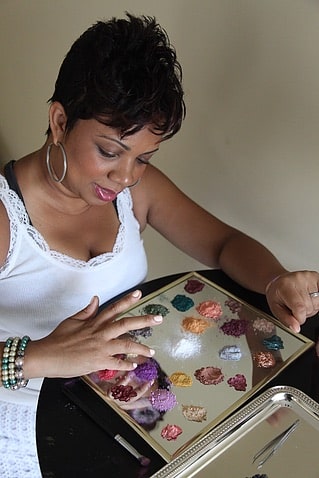 Check out www.shawnaelizabeth.com ?for more blogs and information on Shawna's makeup classes; bridal packages; makeup,?eyelash, eyebrow and skincare services
(646) 545-8243
?
?
Westchester Woman Loves YOU!