Westchester #TBT When There Was a Woolworths at Cross County in Yonkers
In this weeks?Westchester Throwback Thursday #TBT: ?Woolworth at the Cross County Shopping Center?
You may remember the lunch/dinner counter, but what I remember most about the Woolworth's at?Cross County Shopping Center was that it was the place where I could by?Sweet Secrets.?
I still kind of want one… right now.?Anyway, one of my fondest Westchester #TBT memories is going to Woolworth when it was at the Cross County Shopping Center in Yonkers.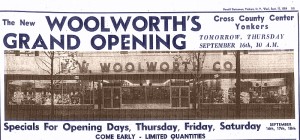 According to?Wikipedia, the Cross County Shopping Center opened in 1954 on a 72-acre site that once included a hospital that was topped with a helipad. The F.W. Woolworth Co. was one?of the first to open in the mall, along with Gimbels (later Stern's, now Macy's) and John Wanamaker (now Sears).
Woolworth or Woolworth's, which held its grand opening on Thursday, Sept. 16, 1954 at 10 a.m., occupied a main store (now mall space) and garden store (which was Odd-Job then Old Navy) at their Cross County location.
F.W. Woolworth Co. , the first store to sell manufactured Christmas tree ornaments, was deemed the largest department store chain in the world by?Guinness Book of World Records?on their?100th anniversary in 1979. Eventually, they sold off their store when companies like Wal-Mart started competed and ended up selling their New York stores to what became Foot Locker.
Do you have any fond memories of Woolworth's? Share them with you neighbors in the comments section below!
(Thanks to the Facebook page?Yonkers, NY and Westchester in Pictures?for letting us use their pictures. Not only do we get to?reminisce and learn with these awesome, but we get to?read everyones heartwarming memories.?Make sure you join the groups?private page?for a full list of searchable images,?here. Do you have any old photos your neighbors would love to see? Add them to the Yonkers, NY and Westchester in Pictures page)